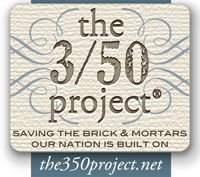 I've been going to post about the
3/50 Project
and how it relates to the quilting industry for a while. Today seems very appropriate since I have this morning reaped the rewards of "going local," which this campaign also reminds me of.
Last night, when I had 7 lbs of pork spareribs and bbq sauce ready to go in the oven, I discovered it (the oven) was dead. Fortunately, I have a second oven the size of broiler (we call it the chicken nugget oven) and I managed to get my supper in that oven. This morning I called my locally owned appliance sales & service store at about 8:15am. By 9am the service man was at my house and by 9:30am my oven had a new igniter and was fully functioning again. I spent the same amount of money as I would have if Sears would have come out. Pretty phenominal turnaround, huh?
Same thing with quilting... If I am in the middle of a project and need something, I have a very nice
LQS
in my town to go get what I need. If you are making a gift on a deadline, Fedex overnight does not beat driving down to your local store and being back within an hour. Yes, I do buy quite a bit online...(hmm did you just get the 20% off coupon from
Fat Quarter World
that could be used on sale stuff?) But just think a bit about how much your local brick and mortars mean to you... quilting or otherwise and be sure to shop them periodically so they continue to be there.
Oh, and did you know that for every $100 spent in locally owned independent stores, $68 returns to the community through taxes, payroll and other expenditures. If you spend that in a national chain store, only $43 stays in the local community. Spend it online and nothing comes home.
Also, some photos of mine are featured in
The Selvedge Blog
... this is where I grew up in North Dakota, near the Badlands and how this blog got its' name. And check out the
LQS
there... they have a successful brick and mortar store AND a successful online store!